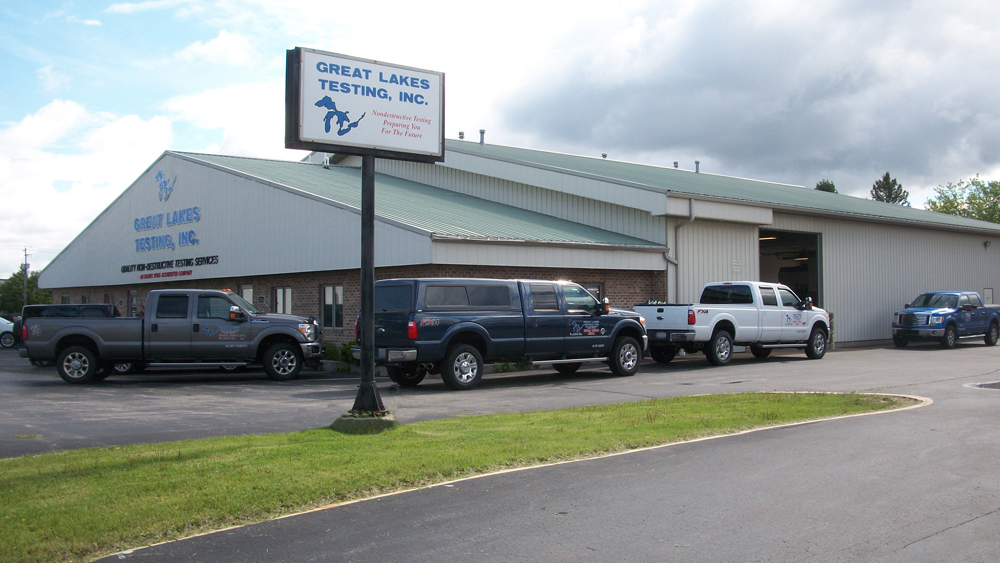 Great Lakes Testing, Inc.
About Us
Great Lakes Testing, Inc. is a locally owned and operated small business in northeast Wisconsin founded in 1993. Our company provides nondestructive testing services throughout the state of Wisconsin and the surrounding Great Lakes region. These services include radiographic, visual, magnetic particle, dye penetrant, fire truck ladder inspection, and ultrasonic inspection. Our market is primarily manufacturing and steel fabrication. We serve a wide variety of customers, including: manufacturers, fabricators, government agencies, and machining facilities. We sell our services with an emphasis on quality.
Quality
Our experience is what makes us better. We believe that experience is the core of success. That's why we work hard analyzing prospective mining sites, exploring them and setting up production. And with every next project we become better. We are dedicated to the principle of constant improvement.
Non-Destructive Testing
If you want to be a part of a successful team, it's time to join us. We work only with sustainable crude oil reservoirs, thus eliminating all the risks and granting financial security for our shareholders. Our company owns the fourth largest crude oil reserve in the world, and is oriented at growth and success. Investing into our company, you invest in your future.
Customer First
Our company has won a huge number of awards for the unparalleled quality of our products, outstanding working conditions and eco-friendliness. We are known as a company that is open to people. Our managers are always happy to discuss with you any issues related to our company.
Availability
We are not just a single company, but a group of international companies working together to achieve leadership in such industries as oil and gas production, steel production, engineering, shipbuilding and transportation. Our principles are unsurpassed quality and reliability of every product and service. We believe that collaboration is necessary when it comes to such complex fields of human activity as heavy industry, power engineering and construction.
Standards
Our researches allow us to provide useful data to non-profit and governmental organizations. So, we are working shoulder to shoulder with NASA, EPA, AAPG and many others to receive more knowledge about our planet and its resources. The data we get during oil exploration activities help us find new deposits of minerals, uranium and accompanying metals.